Travel Tower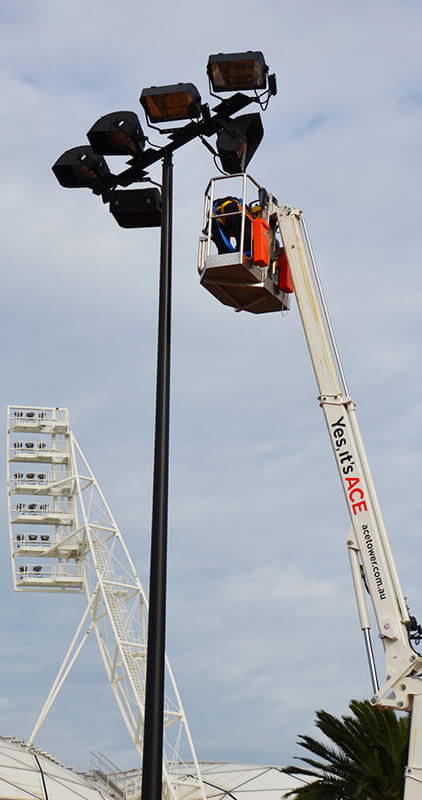 Located throughout Victoria, Now moving Australia wide Ace Tower Hire is part of the Yes It's ACE family.
Since we are apart of Yes It's ACE we are not just able to provide great rates but a wide range of additional services. Ranging from, Power maintenance, tree removal, and traffic control.
Our extensive modern fleet-mounted aerial work platforms ranging from 8 - 101 Metres with a fully qualified operator.
Ace Tower Hire are proud to offer great service at an affordable price.
We are proud to have the first Barin 70 Metre Travel Tower in Australia which is imported from Italy Europe.
Travel Tower Hire Fleet Range
8 Meter Towers
12 Metre Towers
18 Metre Towers
24 Metre Towers
30 Metre Towers
40 Metre Towers
New 52 Metre Tower 8x8 - Coming to New Queensland office late 2014
New 44 Metre Tower 8x8 - Coming to New Queensland Office late 2014
60 Metre Towers
70 Metre Towers
New 90 Metre Tower - Coming Soon Dec 2016
101 Metre Tower
New 121 Metre Tower - Coming Soon June 2020
Under Bridge Units
Crane Truck Hire
Large Timber or Heavy Duty Steel Outrigger Mats on request

Quality Management Systems (QMS)
Ace Group operates a compliant integrated system that meets the ISO9001:2009 and ISO14001:1996 standard. All of our staff are inducted into our system and its implementation.
Quality Assurance
Environmental
Industrial Relations
Safety management
Operating Procedures
Our QMS,Quality Management System is defined as a set of policies, procedures and processes. QMS enables us to identify, measure, control and improve the various core business processes that will ultimately lead us to improved our overall performance.
Our Major QMS system are:
Hazard and Risk Assessments
Work Method statements
Job Safety Analysis
Vehicle/Plant Maintenance
Document Control
Machine Monitoring
Vehicle Tracking
Mobile iPads Apps