11 February 2016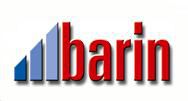 BARIN has been working in the field of design and manufacture of bridge inspection units since the sixties.
Housing administration, design offices, production and testing facilities are based on a 23.000 square meters site in Cittadella (Padua).
The plant is provided of all the most advanced facilities for the production of access equipment, among which we like to mention a bridge for testing the machines prior to delivery.
BARIN company is supported by a staff of experienced technicians who guarantee a high product quality level and a world-wide service and assistance to the clients.
BARIN equipment is often designed and manufactured to meet the specific requirements of the customers and is capable therefore to suit whatever technical need.
Testing of machines and certification of safety standards is provided according to current rules of country of destination.
Such a flexible approach to the market has made possible BARIN to be today permanently present in most of the countries of Europe, in Russia, in the USA, in Canada, in the Far East and in Australia.